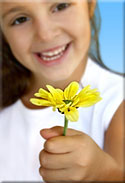 Gift Basket Ideas for Sick Children.
Send a special child a get well soon gift basket by mail to a child's home to make them feel better. Let children know that you are thinking of them and that you care when they are sick by sending a get well present to them.
Adorable Gift Baskets offers fun get well gift ideas and get well gift baskets for children online.
Five Tips for a Healthy Child
This is an article outlining 5 of the most important health tips for children. For example, a moderate dose of sunshine fulfills a child's need for vitamin D, which is essential for calcium absorption.
As parents, you know that having a healthy, well nurtured child who is progressing mentally, emotionally and physically is going to be a happy child.
Sickness and contact with germs in some form or another is inevitable, however. When a child gets sick, it can often be difficult for both the child and the parents. The good news is that there are things you can do to boost your child's immune system, which can prevent sickness. At the very least, your child will be able to fight the sickness more effectively with less chance of a relapse or secondary infection
Here are 5 things you can do to keep your child healthy, as well as have a better chance of fighting off health problems and diseases when they come around.
Clean habits
Teach your child the importance of staying clean and to nurture good health habits. If a child knows how to wash their hands properly and frequently, for example, she is much less likely to get a flu or disease that is going around. She will be able to stop the spread of germs before they get into her system.
Another example of a good habit to teach your child is to sneeze or cough into her sleeve.
Nutrition
Even though itís been said a thousand times, itís still true. Eating healthy and stocking up on fresh fruits and vegetables helps fight disease and sickness. Whatís more, eating foods that are high in sugars and processed materials is damaging to a childís immune system, which in turn makes them much more susceptible to disease and sickness.
Exercise
The benefits of exercise for children are numerous. Children need to get their blood flowing daily in order for their heart and lungs to stay healthy and physically fit. Their bones and muscles also need strengthening in order to grow. What better way to do this than by running and playing outside?
Exercise also promotes good sleep habits, maintaining a healthy weight, and strengthens the immune system. Frequent exercise makes your child less prone to sicknesses and diseases, including cancer and type 2 diabetes.
Good sleep habits
A child needs between 8-10 hours of sleep nightly. Making sure your child has enough sleep prevents the weakening of her immune system, as well as crankiness, irritability and loss of focus. A child who has enough sleep concentrates better and is healthier and happier.
Sunshine
Sunshine is very good for your childís health. Sunshine kills viruses and bacteria, increases blood circulation, and lowers blood pressure.
A moderate daily dose of sunshine fulfills your childís need for vitamin D which is essential for calcium absorption. Vitamin D has many other health benefits. For instance, studies suggest it improves overall skin health and prevents certain types of cancer.
There is a lot you can do for your child to help her stay healthy and happy. You will also help teach her habits that will stay with her for life, and she will surely thank you for that one day.
Send kids get well gift boxes, care packages and baskets filled with fun toys, snacks, candy, books, games, puzzles and tasty treats and goodies guaranteed to delight any child.