A Guide to Brooklyn, New York
Adorable Gift Baskets delivers gourmet food, fruit baskets, flowers, balloons, unique gifts and gift baskets to Brooklyn, New York for holidays and all gift-giving occasions. Easy online ordering. Fast gift delivery to Brooklyn, NY.
Thrilling Tour of Brooklyn, New York
Whether it's to bike or walk over the beautiful Brooklyn Bridge or to visit Coney Island for a delicious hot dog, tourists love stopping by Brooklyn, New York! It's a great place to live or visit with its nice neighborhoods and rich history.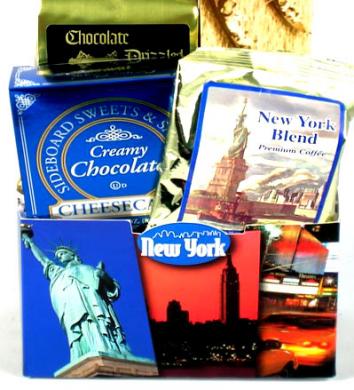 New York, New York Gift Basket
$65.00
This colorful New York themed gift box, featuring photo's of NY hot spots, arrives generously filled with tasty snacks and
New York Blend
premium coffee!
Brooklyn, NY is located on the East River just across from Manhattan. It is a borough in Kings County, one of five counties in New York City. Brooklyn, NY got its name from a Dutch settlement named Breukelen, meaning "broken land." Brooklyn's estimated population was 2,465,326 as of 2000. It is located near the cities of Woodside (NY), Ridgewood (NY), New York (NY), Maspeth (NY) and Long Island City (NY).
Looking Back through Brooklyn History
Brooklyn, NY was first settled by the Dutch in the early 1600s. They settled on the western edge of Long Island. Breuckelen was part of New Netherland until the Dutch lost it to the British in 1664. Then in 1683, the Province of New York was reorganized by the British, and 12 counties were formed. One of those counties was Kings County. Brooklyn, NY was in Kings County as one of the first six towns.
In 1776, the Battle of Brooklyn was fought in Brooklyn, which was the first major battle for the American Revolutionary War after the Declaration of Independence. In 1783, New York (with Brooklyn included) gained independence by the Treaty of Paris. Brooklyn, NY began to grow into a well-organized town from that point.
The first Brooklyn library was built by General Lafayette in 1825. It was located on Cranberry Street. In 1883, the Brooklyn Bridge opened as cannons boomed and steamers whistled! It was the longest suspension bridge of its day in the world. During the 1920s, Brooklyn, New York became known for crime, with notorious gangsters like Luck Luciano, Albert Anastasia and Meyer Lansky beginning their illegal careers there.
Today, Brooklyn, NY has become a magnet for art lovers and business people alike. Beautiful neighborhoods such as Brooklyn Heights have attracted people from all over.
Brooklyn, New York Attractions
Brooklyn, NY is a great place to visit for history buffs, families and anyone who wants to get away. Those who like history will enjoy visiting the historic sites and museums that bring New York and Brooklyn history to life. The Brooklyn Historical Society is a museum combined with a library and educational center, and offers works of art and historical documents about Brooklyn's society then and now.
The Brooklyn Museum of Art is the second-largest in New York, and has a vast collection of artwork from ancient Egypt and many cultures around the world. Those who are interested in transit history are sure to love the New York Transit Museum in Brooklyn, NY.
Family Fun in Brooklyn, New York
Families can visit the Brooklyn Children's Museum and explore more than 20,000 artifacts and specimens. Live plants and animals always intrigue the kids. They can also have a blast at the Astroland Amusement Park, the largest amusement park in New York City. It features Dante's Inferno, Water Flume, Astrotower and many other great thrills!
For those who enjoy gazing at the towering New York skyline, the Brooklyn Heights Promenade offers a magnificent view of the Brooklyn Bridge and the Manhattan skyline. Or, tourists can spend a day at Prospect Park. Within the park is a zoo, museum and an Audubon center.
Visitors to Brooklyn, New York will also find much to do at Coney Island. There's non-stop activity with horseback riding, golfing, jogging, wildlife, rock climbing, hiking, ice skating, biking and walking, and much more!
Brooklyn, NY has much to offer any time of the year. More information about Brooklyn, New York USA can be found at the About Brooklyn Web site.
Other popular cities we deliver in New York include Bronx, NY, Buffalo, NY, Long Island, NY, New York, NY, Rochester, NY, Manhattan, NY, and Syracuse, NY.