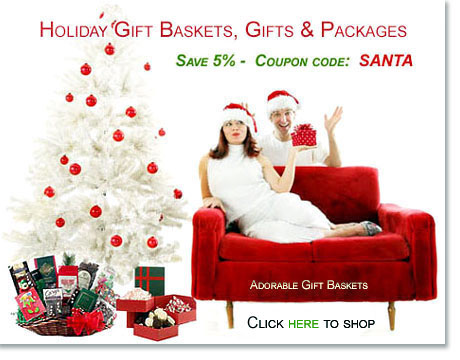 Are you in a Christmas Shopping Frenzy?
Try Last Minute Holiday Gift Baskets
If you're frantically trying to find Christmas gifts at the last minute, consider holiday gift baskets. They make great last minute gifts and can be custom tailored for any recipient. For many, the holidays mean one thing - rush! Rush to buy and prepare food for gatherings; rush to decorate for Christmas; rush for office parties; and of course, rush to buy gifts for family members and friends.
Holiday gift baskets won't solve all your dilemmas, but they can help solve the gift buying part of the puzzle. So, what are holiday gift baskets? These are various types of decorative baskets filled with holiday treats such as chocolates, gourmet foods, cookies, cheese, and other goodies. Christmas baskets are usually decorated with pretty ribbons and might include specific theme items. At Adorable Gift Baskets you will find gift baskets priced anywhere from $25 to $200 or more, depending on the size and contents of the basket.
Some popular theme baskets for the holidays include spa gift baskets, golf gift baskets, fishing gift baskets, chocolate baskets, fresh fruit baskets, coffee and tea gift baskets, gourmet food baskets, relaxation baskets, and many others. We also offer adorable gift baskets for kids, which blend fun toys and holiday goodies. Holiday gift baskets show thoughtfulness because you can choose the theme that would be most enjoyed by your loved one.
You can shop for holiday baskets any time of the day online without spending time and gas going from store to store. You can conveniently order from the safety of home or the office. Another benefit is you don't have to wrap or package a gift basket - it's already packaged beautifully for you!
Gift Basket Tips: If there are only a few weeks left before Christmas, shop for holiday gift baskets online at Adorable Gift Baskets for all of your last minute shipping. If you need several baskets, you will find a huge variety of beautiful holiday gift themes and can place your orders all at once.
Adorable Gift Baskets offers affordable shipping fees and in some cases free shipping plus Adorable Gift Baskets will ship directly to your recipient. You can include a special Christmas greeting for your loved one with each of your holiday gift baskets. At Adorable Gift Baskets it's the little conveniences that make a big difference in your online shopping experience.
Your efforts to make the Christmas season cheerful for your loved ones, friends, or co-workers will be greatly appreciated. Holiday gift baskets provide an all-around last minute solution. Buy holiday gift baskets, gifts and presents. Get fast mail order gift delivery with satisfaction guaranteed. Find food gift baskets, fruit baskets, candy, care packages and unique gift ideas for clients, friends and family.
Holiday gift baskets delivered to Arizona, AZ , Arkansas, AR , California, CA , Colorado, CO , Connecticut, CT , Delaware, DE , District of Columbia, DC , Florida, FL , Georgia, GA , Idaho, ID , Illinois, IL , Indiana, IN , Iowa, IA , Kansas, KS , Kentucky, KY , Louisiana, LA , Maine, ME , Maryland, MD , Massachusetts, MA , Michigan, MI , Minnesota, MN , Mississippi, MS , Missouri, MO , Montana, MT , Nebraska, NB , Nevada, NV , New Hampshire, NH , New Jersey, NJ , New Mexico, NM , New York, NY , North Carolina, NC , North Dakota, ND , Ohio, OH , Oklahoma, OK , Oregon, OR , Pennsylvania, PA , Rhode Island, RI , South Carolina, SC , South Dakota, SD , Tennessee, TN , Texas, TX , Utah, UT , Vermont, VT , Virginia, VA , Washington, WA , West Virginia, WV , Wisconsin, WI , Wyoming, WY