Take a Tour of Lexington, Kentucky
Horse Capital of the World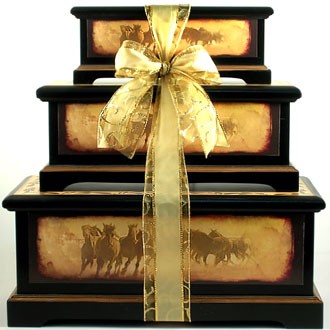 Born Free, Deluxe Trunk Set with Gourmet Gifts
One look at this gift set of absolutely gorgeous horse theme wooden trunks and they will be absolutely thrilled with their very special gift. This upscale gift set, consisting of three handsome trunks, alone is truly stunning and will make a fantastic addition to any home or office decor! The fortunate recipient of this exquisite gift will also enjoy discovering the entire collection of delicious gourmet food gifts tucked inside. ....Read more
Horse Country - That's what they call Lexington, Kentucky! Horse lovers from all over the world love to visit Lexington. They can tour horse parks, horse museums, horse centers, etc. Lexington also offers much more than just horses. It is a beautiful place to live or visit.
Lexington is located in Fayette County as the county seat, and is in the Bluegrass Region of Kentucky. Visitors will notice right away that the area is rich in pastureland, fertile soil, beautiful scenery, and stock and horse farms. The ÏbluegrassÓ lives on limestone that is just beneath the surface of the soil. There are also many scenic creeks flowing from the Kentucky River.
The population of Lexington was estimated at 260,512 as of 2000. Lexington boasts more than 230 local churches, many parks covering more than 3,000 acres, and several major businesses for employment including Ashland, Inc., Johnson Controls, UPS, Lexmark International, Square D Company, GTE, and more. Nearby cities include Nicholasville, Keene, Wilmore, Ford, and Versailles.
Places of higher learning in Lexington and surrounding areas include Asbury College, Berea College, Midway College, Eastern Kentucky University, Sullivan University, University of Kentucky, Centre College, and Bluegrass Community and Technical College.
Lexington in History
The region was once a hunting ground for Native Americans. Among the first Anglo-Saxons to come to the area was the famous Daniel Boone. He helped to establish the first forts in Kentucky. Lexington was founded in 1775, but Kentucky did not become a state until 17 years later. By the year 1820, Lexington had become one of the wealthiest cities west of the Allegheny Mountains. It was nicknamed, ÏAthens of the WestÓ due to the cultured way of life.
Lexington Tourism
Lexington offers much in the way of tourism, from horse-centered attractions to scenic vineyards and parks. ThereÌs something for everyone. Those who like touring museums will enjoy the American Saddle Horse Museum, which features the only horse breed that originated in Kentucky. There are interactive exhibits, videos, life-size models, and interesting presentations.
Children will love the Lexington ChildrenÌs Museum, where they can explore and touch more than 100 exhibits. Lexington also offers the Kentucky Gallery of Fine Crafts & Art. Those who enjoy the arts will also love Artsplace (http://www.lexarts.org/) in Lexington. Artsplace is a multi-purpose art center featuring a gallery of artwork by Central Kentucky artists.
See the Finest Horses of Lexington
At the Kentucky Horse Center, visitors can take a guided tour of the horse training facility and visit barns, meet trainers, and even watch the horses workout at the horse track!
ThereÌs also the Kentucky Horse Park (http://www.kyhorsepark.com), where horse enthusiasts of all ages can see 1,200 acres of gorgeous horse pasture surrounded by white fencing. There are museums, theaters, and around 50 breeds of horses. The International Museum of the Horse is located within the park as well.
Other places of interest in Lexington include the Lexington Cemetery, the Loudoun House, Kentucky and State Theatres, Ashland (http://www.henryclay.org/), the Arboretum, and the Rupp Arena.
Those planning a visit to Lexington, Kentucky USA can learn more at the Lexington Convention and Visitors Bureau website. (http://www.visitlex.com)
Adorable Gift Baskets delivers gourmet food, fruit baskets, flowers, balloons, unique gifts and gift baskets to Lexington, Kentucky for holidays and all gift-giving occasions.
Easy online ordering. Fast gift delivery.