In Their Honor Sympathy Fruit and Gourmet Basket


A fruit and gourmet basket is a thoughtful way to share your condolences. We fill a classic wicker basket with fresh fruits and time-tested favorites such as cheese, crackers, and cookies. Combined, the healthy fruits and gourmet indulgences are a great way to provide comfort during a time of bereavement.

Sympathy gift baskets and comforting gifts

Bring peace and comfort to the brokenhearted. Stylish sympathy gifts for the grieving family and friends that respectfully express condolences and concern.


How to Write a Sympathy Note or Letter

It's important to convey condolences to those who have lost someone special in their lives. But, what is the best way to proceed? Here are some helpful tips on how to write a sympathy note or letter, with examples to help you create your own caring message.

When a friend or family member suffers a loss, his world is awash in grief. What he needs is a reassurance of love and support from those he considers close confidantes in his life.

But writing sympathy notes can be an awkward, uncomfortable experience. You want to say the right things without sticking your foot in your mouth or sounding trite. Here are some tips to help write that important sympathy note.



When to Write A Sympathy Note

As soon as youíre aware of the situation, take pen in hand and communicate your heartfelt thoughts. Send it out in that very dayís mail, if at all possible. Time is of the essence, as addressing the situation swiftly demonstrates your genuine concern about the issue.



How to Write In A Sympathy Note

This is not the time for email, text messaging, nor printing out your condolences on computer paper. Go ahead and compose your thoughts in a word processor if you like, but for the final draft, nothing gives the personal touch like a handwritten missive.



What to Say In A Sympathy Note

The purpose of the sympathy letter is to acknowledge the sad event, express your positive reflections about the deceased, perhaps share a fond memory or two about the person, and offer your condolences and support however itís needed. Sympathy cards are saved for a lifetime, cherished along with other memorabilia of the deceased. Your words will be treasured for a long time to come, so make sure they are positive, encouraging words; words that bring comfort and peace to one who has been through an extremely traumatic experience.

Speak not only of your praises for the deceased, but for your devotion to the survivor. This person likely feels scared and alone, and could use reassurance that friendly, caring hearts are rallying around in support at this critical time.



What to Avoid When Writing A Sympathy Note or Letter

Unless youíre a bosom buddy or a close family member, don't use the telephone to contact the bereaved. A phone call is more likely to disrupt than assist the grieving person, particularly if the bereaved has to explain again and again the details of his loved oneís demise.

Your handwritten message of support is not the place to request explicit details of the love oneís passing. If you donít have all the details at the time you write your letter, rest assured youíll be filled in eventually as to what happened. The goal of your letter is not to cause the survivor to re-experience the pain and suffering of his loss over and over again, but to step up beside the survivor, empathize in the sadness and confirm your dedication by means of support.

Share whatís in your heart, and your words will be a balm.

How To Comfort A Grieving Friend

Sympathy gift baskets have the power to change the mood to a world of beauty and peace. A comforting gift, sent during the days of grief after the death of the dear ones, will certainly lighten their mind.

Express condolences to your friends, relatives, colleagues and family members by sending a beautiful sympathy gift basket.

Sympathy gift baskets and gifts are excellent for politely expressing sympathy during times of suffering and loss. While we may not know what to do or say during these difficult times, sympathy gift baskets convey your condolences easily and with the utmost elegance.

Send a sympathy basket, comforting care package, thinking of you gift box, fruit or food basket. Gourmet food baskets can include comfort food gifts such as gourmet, fruit, cookies and inspirational booklets with comforting messages.

Of course, during difficult times, your most precious gift to the bereaved is the gift of simply letting them know that you care. During their time of sorrow and sadness this gift alone can make his or her grief more bearable.

"I just wanted to write and tell you how quickly your customer care consultant acted on behalf of your company, Adorable Gift Baskets. After the death of my beloved sister I have had a very difficult time organizing my thoughts and taking care of the many thank yous that come with the death of a loved one. Your conscientious customer care has saved us such an incredible amount of hassle and trouble trying to get gifts out.

Customer Service like this is what sets companies like yours apart and makes you stand out from the rest. So do your baskets which we think are superb. We are so impressed and grateful that we will sing your praises loud and clear to whomever we encounter. Thank you for a job well done. Sincerely Mary Dowling, Marketing & Creative Services - New Fairfield, CT 06812"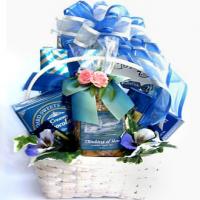 Thinking Of You Gift Basket
$78.00
Get well, sympathy, comfort...Know someone who could use a little recovery treat? This gift basket is perfect for anyone who needs a little cheering up.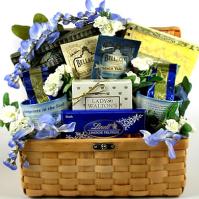 The Christian Heart Gift Basket
$105.00
Christian gourmet gift basket is elegantly trimmed with silk wisteria, white roses and designer ribbon creating a beautiful and meaningful Christian gift for any occasion!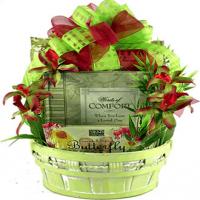 In Rememberance, Sympathy Gift Basket
$65.00
This very beautiful sympathy gift basket is loaded with comfort gifts for those grieving a loss. Features the touching book Words of Comfort, When You Lose a Loved One.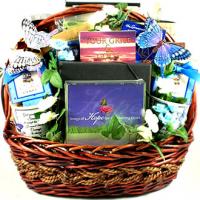 In Our Prayers, Sympathy Gift Basket
$170.00
A thoughtful sympathy basket meant to help heal, comfort and inspire. Send loving wishes of peace, comfort and sympathy when you give this huge basket of treasured memories and gourmet foods.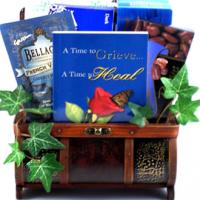 Grief and Healing Gift Trunk
$89.00
Send inspiration and healing during difficult times. Includes a book with quotes and poetry titled ďA Time to Grieve, A Time to Heal plus tasty comfort foods.



Footprints In The Sand, Gift Basket
$97.00
Accented in rich burgundy, this attractive gift basket is particularly stunning for any occasion including get well, sympathy, thinking and to send comfort.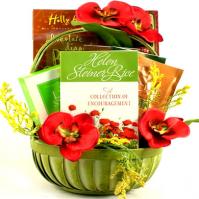 A Gift Basket Of Encouragement
$95.00
Send this uplifting gift basket filled with delicious treats plus an inspiring gift book to lift their spirits and provide encouragement during tough times.



Last Minute Gifts
Gifts of fruit, food, wine, chocolates, flowers, plants, balloons and more that can be delivered today or within 24 hours. Perfect gifts to send.



Fruit Basket Delivery Same Day

Healthy, delicious fruit basket delivery is perfect for any occasion. Fresh fruit baskets are also great last minute gift ideas.



Bereavement Gifts


Thoughtful bereavement gift baskets to comfort the broken-hearted. Find bereavement gift ideas to show support to the grieving during their time of loss.



Flowers Same Day Delivery

Same day florist delivery. Send flowers, plants, roses, bouquets and floral arrangements with last minute gift delivery to home or office.