How to De-Stress and Relax


Take a hot bubble bath. The soothing suds and warm water can wash your cares away while relaxing your tired, aching muscles. To enhance the healing effects, turn on some soft music and just daydream the night away.

Pampering the woman in your life is easier than you think

Bath and body gift baskets can be delivered by mail right to her front door. Every woman loves to be pampered and the best way to pamper her is to send her a luxurious bath and body gift basket. Give the gift of relaxation to every special woman in your life with elegant spa baskets by Adorable Gift Baskets.

Bath and body gift baskets include products for ultimate enjoyment and rest such as aromatherapy candles, lush bath towels, candles, massaging products, bubble bath, body mist, body butter, bath oil, body scrub, and lotion. These gifts can help her unwind after a tough day at work or busy day at home.

Bath Gift Baskets, Relaxing Stress Relief Gifts For Delivery



Find the best stress relieving gifts for a woman

Spa gift baskets for women and relaxing, stress relief bath & body gift sets are a woman's favorite gifts. Women love to receive relaxation gift baskets filled with luxurious aromatherapy scents and soothers.

Luxury spa baskets by Adorable Gift Baskets provide you with all the accessories you'll need (bundled in gorgeous arrangements) to fulfill your spouse's every desire on your wedding anniversary, her birthday, or even on Valentine's Day.

If she already owns plenty of luxury spa and bath products, try one of our bath and body gift baskets containing foot massage necessities. Help her relax her feet a while with foot bath and gel, foot cream, a foot brush, and other soothing items. Besides, when her feet feel wonderful, this will create a serene feeling in her whole being.

A bath and body gift basket delivered to her office will make her the envy of her friends.

And you don't need a special occasion to express your love. Pick a day when she least expects it and have the bath and body gift basket delivered along with a lovely floral arrangement and a card - just to say "I love you!" She'll treasure your gift - and you - for a lifetime.

Adorable Gift Baskets also provides a variety of bath and body gift baskets for Mother's Day, the holidays, get well gifts, gifts of thanks, friends, loved ones, co-workers, and others. Luxury spa baskets are great for a new baby greeting to help the mother relax and enjoy her time at home with the baby.

With our easy shopping methods and fast, affordable shipping, you'll discover endless ways to show you care with bath and body gift baskets. Browse our selection and choose baskets that are creatively packaged with all the spa essentials your wife or loved one will adore.

Relaxing Gift Baskets, Stress Relief Gifts, Relaxation Therapy. Pamper spa gift baskets are the perfect way to say "I love you," or "I'm thinking about you" to someone in need of a little rest and relaxation. When you want to share your love with the woman in your life, whether it's your wife, girlfriend, or even your mother, Adorable Gift Baskets for women offer a wonderful, easy solution. She'll adore our elegant gift basket arrangements garnished with fine merchandise and goodies to make her feel like the special woman she is.

"Thank you...my friend said it was the best bath and body gift she has ever received. I will continue ordering from Adorable Gift Baskets. It's easy, convenient and most of all, the gift baskets are affordable and significant." - M. Stanley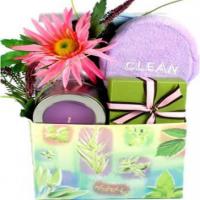 Essence of Tranquility Bath Basket
$49.95
This special spa gift, filled with luxurious bath products and indulgent chocolates, is beautifully packaged for a dazzling presentation.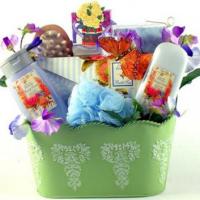 Relaxing Lavender Palmarosa Therapy
$60.95
A lovely gift basket for women, enhanced by floral accents and designer ribbons, is blooming with luxurious spa gifts and delicious treats.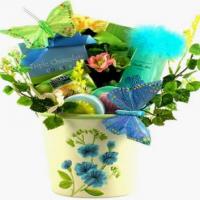 Showpiece Butterfly Spa Gift
$63.25
Treat her to this beautiful hand painted keepsake filled with luxury pamper bath gifts and decadent gourmet snacks.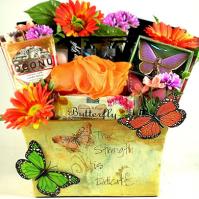 Garden of Delights, Gift Basket for Her
$75.00
Surprise her with an energizing and reviving bath gift basket. A beautiful planter is piled high with our finest gourmet treats and luxurious spa products.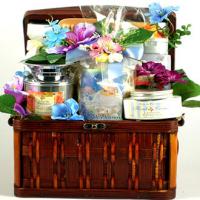 Perfectly Pampering Gift Basket For Her
$95.00
Busy women can always use a little down time and a lot of pampering! This special gift for women is a delightful treat that any woman would love to receive.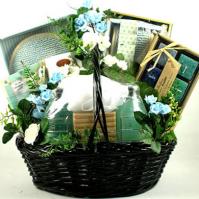 Spa Day, Bath and Body Gift Basket
$98.00
A unique spa basket tastefully designed especially for women. Indulgent chocolate and exotic bath and beauty products arrive arranged in a beautiful pamper spa basket.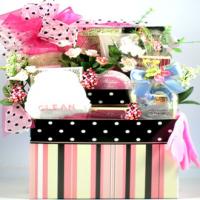 Just For Her, Deluxe Gift Basket For Women
$115.00
Send this wonderful gift basket to any special woman. A thoughtful gift that's just perfect for holiday, her birthday, get well, anniversary or any day.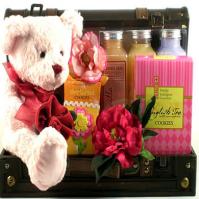 A Beary Special Mother, Gift Basket For Moms
$118.00
Surprise Mom with this beautiful wooden gift trunk filled with keepsakes, Mother's Day gifts, spa products and gourmet goodies. A luxurious gift she will remember.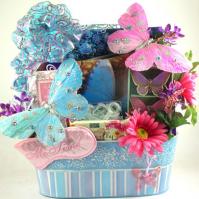 Deluxe "Me Time" Gift Basket For Her
$128.00
Send her with a deluxe gift basket experience any woman would enjoy. Indulgences to help provide her with a little pampering and a relaxing retreat!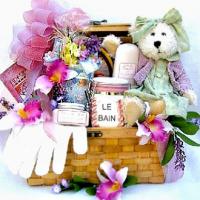 I Treasure You, Luxury Gift Basket
$129.95
Looking for a beautiful gift basket for Mother, Sister, Wife, New Mom, or other special women? Send this extravagant gift to make her feel treasured.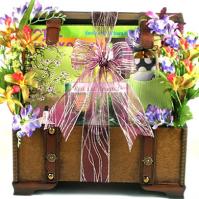 Deluxe Rest and Renewal
$180.00
This gorgeous trunk is a gift, within a gift, within a gift! From a complete Reflexology Kit, to a unique stationary set, music, candles, spa products and more!



Gift Baskets Online

Find gift baskets with free shipping and fast delivery. Send gift baskets for Christmas, holidays, new mom, babies, get well, thank you, housewarming, birthday, sympathy, thinking of you and all occasion gift basket delivery.

Gifts For Her

Every woman loves to receive pampering gifts that say Thank You, I Love You or You're Special. Choose from relaxing spa baskets and lovely gifts for every special woman in your life to show her how much you care.