Golden Godiva Chocolate Gift Tower
Velvety chocolate abounds in this gold tower of Godiva riches. Our dazzling tower is overflowing with sumptuous chocolates for a truly spectacular treat. Satisfy that chocolate craving with an assortment of both milk and dark chocolate Godiva gems, chocolate covered pretzels, a signature gold Godiva box of assorted chocolates and milk chocolate cashews. It's the height of indulgence.

Tower of Godiva Chocolate
Give them what their hearts desire: the finest Godiva chocolate of course! Our shiny red tower is full of sweet Godiva goodies that will satisfy the ultimate chocolate lover's every wish. These gorgeous boxes are packed with a variety of soft and creamy milk and dark chocolate gems, delectable chocolate cashews, a four-piece ballotin gift box of chocolates and chocolate-covered pretzels.

California Poppy Red Wine Classic Gift Tower
We are proud to feature Poppy Cellars wines in this lovely three-tiered natural boxed gift tower. California's Poppy Cellars produces rich, concentrated and exemplary red wines. Poppy Pinot, like the California golden poppy, thrives in cool coastal climates. Poppy cabernet sauvignon tastes of ripe cherry and plum flavors and soft tannins. Enjoy these excellent wines with fine Columbus salami, Sonoma Jack cheese, Napa Valley mustard, Nunes Farms nuts, Sonoma cheese straws, Krave jerky, biscotti and sweet Ghirardelli milk and caramel chocolate squares.

California Elegance Wine & Chocolate Tower
This sophisticated pewter-toned gift tower makes a grand impression. Three glittering boxes are stacked and filled with the finest from California. Savor a beautifully crisp Napa Valley Raymond chardonnay and a full-bodied, smooth Raymond cabernet sauvignon. Enjoy these with decadent chocolates, including Vintage Reserve wine truffles, cafe mocha petite cookies, chocolate-covered espresso beans, Godiva white chocolate truffles, milk chocolate almond toffee, chocolate salted caramel cookies and a Godiva dark chocolate sea salt bar. Indulge!

Fresh and Fruity Gift Tower
This orchard tower boasts a grand collection of the sweetest and juiciest pears, apples and oranges. This wonderful array of fruit is accompanied by tasty cheese, crackers, sausage, hot 'n sweet mustard, assorted California nuts and fruit candies. All of these goodies are stacked high in harvest motif boxes for a terrific towering gift of goodness.

Fall Godiva Chocolate & Fruit Gift Tower
Autumn leaves and crisp, cool nights herald the change of the seasons. This beautiful and elegant Godiva tower is a celebration of all things Fall. Handsome faux leather containers hold juicy oranges, Godiva dark chocolate caramel gems, Godiva signature biscuits, milk chocolate covered cashews, milk chocolate dipped pretzels and Godiva milk and dark chocolate hot cocoa to help warm up the Autumn nights.

Tasty Tower of California's Organic Best
Experience California with our Organic Fruit & Cheese Tower. It includes crisp apples and juicy oranges, Maisie Jane's organic almonds, and organic Jack cheese - all wrapped up in beautiful, linen-like boxes. Pair it with a chilled Napa Valley chardonnay and you're all set!

Ghirardelli Chocolate Gift Tower
Scale the heights of good taste with our colorful Ghirardelli Tower. Filled with the finest that Ghirardelli has to offer, each box in this elegant tower overflows with rich chocolate treats. For a birthday or any celebration, this impressive and colorful gift tower comes with mint, caramel, almond, milk and dark chocolate flavors of bars and squares!

Ghirardelli Sweetness Holiday Tower
Send sweet Ghirardelli holiday greetings this season with a silver striped tower of delicious chocolates. Each shiny box comes filled to the brim with a variety of Ghirardelli chocolate squares. Ghirardelli peppermint chocolate, 60% cacao dark chocolate and creamy milk chocolate - It's a gift of sweet proportions!

Natural Tower of Nuts
Send a gift that's naturally tasty and beautifully presented with this awesome tower of nuts. Ecru linen boxes are stacked and filled with a generous array of pistachios, savory snack mix, almonds, mixed roasted nuts and delectable white chocolate macadamia nut cookies. Exquisitely delicious!

Gold Star Tower of Sweets
Go for the Gold! Show your appreciation by sending this tower of golden gourmet sweets. No one will be able to resist the chocolate-covered caramel popcorn, chocolate-dipped sandwich cookies, chocolate truffles, chocolate caramel Ghirardelli squares and milk chocolate golden stars! Yummy!

Golden Tower of Treats
This elegant golden holiday tower makes a big impression on family and friends. The perfect hostess gift or office gift to share, each gold box is filled with sweet surprises. They will love the chocolate drizzled popcorn, the white and milk chocolate sandwich cookies, Ghirardelli chocolate squares and milk chocolate almond toffee. Happy Holidays!

Kosher Treats Gift Tower
Send a tower of delectable kosher treats! This sky-high collection of treats includes caramel popcorn, Guylian chocolates, chocolate covered graham crackers, snickerdoodle cookies and Ghirardelli chocolate squares.

Holiday Superstar Tower
They'll be seeing stars when they receive this glittering star shaped tower filled with gourmet treats. Dazzle and delight with our stacking gold star boxes filled with: chocolate toffee wafers, butter toffee pretzels, caramel popcorn and Lindt chocolate truffles. Fun for a crowd or a party of one, this star-studded gift will add sparkle to any holiday event!

Heavenly Heights Gourmet Gift Tower
Celebrate the season with three tempting tins stacked high and adorned with holiday sentiment: delicious honey roasted nuts, mocha chocolate almonds, toffee almonds, chocolate chip cookies and an assortment of Ghirardelli mint, dark and caramel chocolate squares. Irresistible!
Holiday Gift Towers Delivered
Find lovely Christmas gift baskets, last minute holiday gift delivery and great holiday gift ideas for everyone on your gift list. With so many fruits & sweets gifts to choose from we've made it easy for you to send affordable holiday gift baskets online.
Gift Towers 10% Off

One-of-a-kind, gift towers, stacked high and filled with gourmet food, chocolates, cookies, candy and delicious snacks ready to ship today.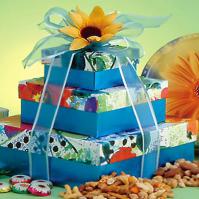 Thinking of You Gift Tower
$59.94
A bright and beautiful gift tower of delicious sweets and treats makes a perfect gift for Easter, Mother's Day, Birthday, Thank You, Get Well and any occasion.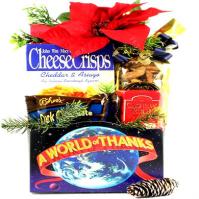 A World Of Thanks, Gourmet Gift Box
$59.95
This thank you gift box is a wonderful way to show your appreciation for employees, business associates, family and friends. A sure way to leave lasting memories of your gratitude and thoughtfulness.



Deck The Halls, Christmas Gift Tote
$69.00
Sent holiday greetings with this festive gift tote filled with a delicious assortment of holiday candy and goodies. An affordable gift idea for the holidays.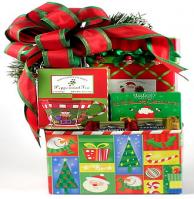 Winter Wonderland Gift Box
$72.00
Light up their Christmas with this delightful Winter Wonderland holiday gift box of holiday goodies. A festive, yet affordable holiday gift, for everyone.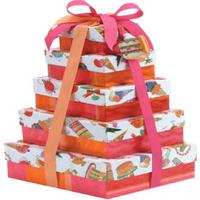 Just Desserts Gift Towers
$77.00
A scrumptious assortment of pastries, tortes and tempting treats make this tower. A year-round favorite. They'll enjoy every delicious layer. 2 sizes available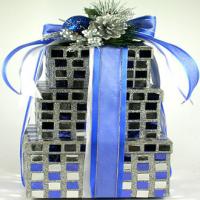 Glittery Gift Tower of Tasty Kosher
$78.00
Wish them a happy Hanukkah with this shimmering gift tower. Filled with kosher treats to light up their holiday with loads of style and scrumptious sweets!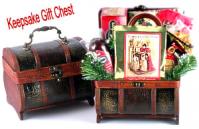 Holiday Treasures Gift Chest Delivered
$79.00
Designed to convey best wishes and create good will, this unique holiday gift design, filled with favorite holiday foods, has remained a customer favorite for several years.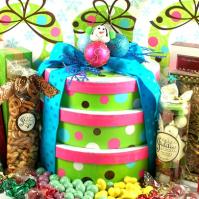 Sweet Shoppe, Holiday Tower
$89.00
A Christmas gift tower, filled with special sweet treats, that will have them saying just how sweet it is to be loved by you!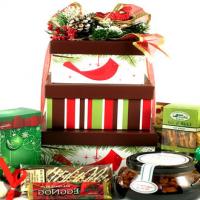 From Our Nest to Yours, Merry Christmas
$108.95
One of those holiday gifts you send that gets remembered for a long time. Designer holiday gift boxes arrive filled with sweets, treats and a lovely keepsake cardinal ornament.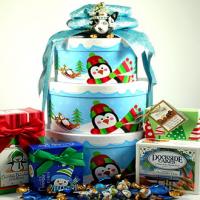 Just Chillin', Holiday Penguin Gift Tower
$118.00
This festive holiday gift tower for Christmas is sure to spark up some holiday spirit. This holiday gift makes a whimsical corporate or personal Christmas gift.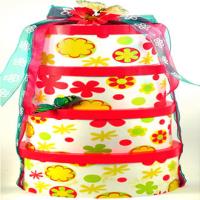 Flower Power, Deluxe Gift Tower
$129.00
Send this beautiful gift tower to her for any occasion. Especially great for mom, girlfriend, sister, daughter, wife or any special woman in your life.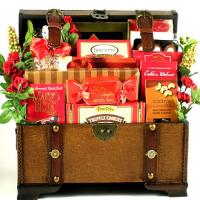 Penthouse, Hampton Series Deluxe Gift Chest
$185.00
This huge deluxe leather and wood gift trunk, with brass latches, arrives filled with an overwhelming selection of fine gourmet sweets and delicious treats.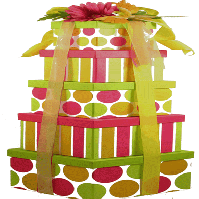 Sensational Gift Tower
$185.00
Want to make a lasting impression? This amazing five tier gift tower is over 2 feet tall! They will love opening layer after layer of delicious gourmet goodies.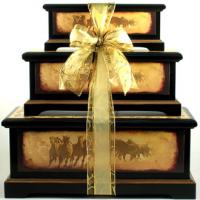 Born Free, Deluxe Trunk Set with Gourmet Gifts
$295.00
This upscale set of handsome horse theme gift trunks will make a fantastic addition to any home or office décor. An exqusite gift filled with delicious gourmet food.




Holiday gift towers and Christmas gift ideas for memorable gift-giving this festive season.

Adorable Gift Baskets offers many different gift towers, gifts, gift baskets and Christmas care packages of great value and unsurpassed elegance.

The joys of the Christmas Season and the delight of munching on sweet tasting Christmas cookies are two of the best things about the approaching winter season. One of the best ways to ensure that you have a wide variety of cookies to enjoy is to host a Christmas Cookie Party at your home. Plus, you can acquire a number of new recipes to try out on your own.

At a Christmas Cookie Party, everyone who is invited prepares a batch or two of their favorite type of Christmas cookies. Once all of the baking is finished, everyone exchanges a dozen cookies with everyone else in the group. If there are six guests plus the hostess, then each participant receives seven dozen cookies for each round of cookie batches.

Plan your event well in advance so that you secure the presence of as many guests as possible for cookie making. The party invitations can be as simple or as elegant as you like. Try to keep in tone with the theme of the event as a visual reminder for those who place their invitation on the kitchen refrigerator or bulletin board. Cards shaped as gingerbread men or candy canes are great themes to use that easily remind your friends and coworkers about the purpose of the gathering.

Only invite as many guests as you think that your kitchen can accommodate during a massive baking session. If you have a separate dining area with a table in it, this provides additional space, which means additional guests can be included. Plus, if the first Christmas Cookie Party goes well, you can always host another one.

Alternatively, you can invite guests in shifts and plan your party for an entire day and evening. In this scenario, your guests will only be able to take home some of the different varieties of Christmas cookies, whereas you will have the opportunity to exchange yours for some of each type.

Be very specific with the instructions that you include in each invitation. If you want each guest to bring all of her ingredients, baking paraphernalia, and packaging items, state that clearly. If you prefer to provide everything by yourself, you can state that as well. In most cases, it is best to have everyone bring their own ingredients since a wide variety might be used.

Additionally, it is a good idea to inform your guests that people might wish to share the recipes along with the cookies. This allows your guests the opportunity to avoid divulging family trade secrets for cookies by binding a different recipe.

Be careful to include a statement that indicates any allergies to food items that other guests might have such as peanut allergies. Also, provide a time frame for your Christmas Cookie Party so that everyone knows when the fun is going to end.

Planning a Christmas Cookie Party is a terrific idea during the holiday season. It can be a great way to prepare cookies for the office party, the neighborhood gathering, or for the local food pantry. Whatever your motivation for planning a Christmas Cookie Party, the end result is going to be the same- lots of fun and lots of delicious cookies!


Some people are definitely harder to shop for than others. Whether it's your brother, your dad, your in-laws, or someone else altogether, you know sometimes holiday shopping can be a challenge. When it comes to picking out your holiday presents, it can be a breeze for some friends and family members but a tricky situation finding a good gift for others. Thankfully, holiday gift baskets often provide the perfect solution to a tough shopping situation. Consider these ideas to help you find the perfect gift basket for everyone on your list.

Before you get started with your holiday shopping, it usually helps to make a list of your intended gift recipients. Consider immediate family (parents, grandparents, husband/wife, kids, siblings, in-laws) and extended family (nieces, nephews, aunts, uncles, etc.), friends, coworkers, neighbors, and clients or customers. Also consider whether you will be giving gifts to anyone else outside of this core list. Once you've got your list of gift recipients ready, proceed to the fun part – shopping!


I sent the Winter Wonderland gift tower, which arrived yesterday, and received a call telling me how beautiful the boxes were and the goodies were wonderful. She told me she was even going to take a box home and use it. I wanted to write and let you know how excited they were and really appreciated it. I have been a customer for 2 years and I will continue to use your company. Thank you for all your work. -Beverley Goldberg



Last Minute Gifts

Gifts that can be delivered today or within 24 hours. Perfect gifts to send for birthday, get well, sympathy, anniversary, or other special occasion.


Champagne Gift Baskets



Elegant champagne gift baskets, professionally designed and filled with premium champagne and delicious gourmet food for your next occasion or holiday.


Wine Gift Baskets



Cheese and wine, fruit and wine plus delicious gourmet food and wine gifts for delivery. An extensive collection of wine baskets for all occasions and budgets.


Personalized Gifts


Personalized gifts stand out from the rest turning an ordinary gift into the extraordinary. Engraved gifts have special, true keepsake value.





Great Gift Baskets for Everyone

Check out these gift basket ideas and perfect recipients:


Gift Basket for Grandparents – fruit basket, sweets and treats basket, or a traditional holiday gift basket



Gift Basket for Parents or Friends – variety gift basket with all kinds of snacks and treats, a coffee gift set, or a meat and cheese basket with a bottle of wine



Gift Basket for Families with Kids – candy or chocolate gift basket, holiday favorites gift basket, or fruit basket



Gift Basket for Extended Family – crowd-pleaser gift basket with all kinds of treats



Gift Basket for Teachers, Doctors, Writers, and Business People – coffee gift basket, chocolate basket, assorted snacks and treats basket



Gift Basket for Clients and Customers – Christmas in Italy gift set, chocolate or treats basket, large assorted gift basket



Gift Basket for Athletes and Fitness Nuts – fruit gift basket or nuts and berries gift basket



Gift Basket for Culinary Gurus – gourmet food gift baskets, spice of the month club, or Christmas in Italy basket

These are just a few gift basket ideas for some of the important people in your life. It's really hard to go wrong with a gift basket containing a wide variety of delicious treats and snacks. Sometimes you can find the perfect gift, even if your recipient is just an acquaintance. If you know the person fairly well, consider your gift recipient's favorite things to help you choose a gift basket that is just perfect!