Baby Nursery Decor Themes for the New Mommy

When your first baby's on the way, tasks can seem overwhelming. Between doctor visits, shopping for new maternity clothes, learning to eat properly for baby's nutrition, planning how you will care for your baby and training to be a mommy, you barely have time for anything else. Like any new mother, you want to welcome your new baby to a nursery of delight. How can you do this? You can create the baby nursery of your dreams with the simple nursery decor ideas below. After all, a baby's nursery is his or her first comfort zone. You want it to be the best it can be. Use the decor tips below to design a beautiful, practical nursery.

What Goes in a Baby's Nursery?

There are many items you can use to decorate your baby's nursery. Here's a list of some of the most popular components of a baby's room.


Baby's Crib
Paint (paint the room a color that enhances your decor theme)
Blankets, crib pads and sheets
Chest of Drawers
Hope Chest
Rocker
Baby Swing
Toys and Stuffed Animals
Baby Lamps
Light Switch Plates or Covers
Diaper Basket
Decorative Wall Pictures and Wall Border
Window Dressings
Theme Floor Rugs

You're probably thinking that there are many items to buy! Don't be alarmed. Many of these items can be found at thrift shops or packaged together at discounted prices. You can also shop online for some of your nursery items if you're pressed for time.

Decorate for the Long Term

One thing to remember is that your baby will not be a baby for long. He or she will grow quickly, and before you realize it, will be walking and talking. This is something to take into consideration while planning your nursery decor. Develop a theme you'll be able to keep at least through the toddler years and maybe even until your child is six or seven years old. Try to avoid themes that will only work for a newborn baby if possible. This will save money and time later on.

Themes to Consider

Below are some different types of themes for baby nursery decor to get your wheels turning:

Character Themes

Many babies are welcomed into this world with some of mom's favorite cartoon characters. Whether it's Winnie the Pooh(TM), Mickey Mouse(TM) or any other character, there are hundreds of decor items to choose from. Disney(TM) releases many products that cater to baby rooms, such as children's lamps and light switch covers, toys, building blocks, etc.

Animal Themes

Animal themes are also a favorite for many moms. You can choose any animal (or a group of animals) and build a decor with colors and photos of the animals. Blankets, rugs, lamps, curtains, etc. can have animal designs on them. Keep in mind that not all animal themes are available on the decor market. You'll have to see what's available, and go from there.

Color Themes

Another way to create a nursery theme is to use your favorite colors. Perhaps you want to create a certain mood in your baby's room. Earth tones and pastels will give the room a soothing, serene look and feel. Bright blues, pinks and reds add a playful tone to a room. Whatever mood you'd like to create can be accomplished with certain colors.

Nature Themes

Nature themes are another option. Build an underwater wonderland for your baby with fish and ocean scenes, and colors to match. Create an imaginary forest with jungle scenes of trees, wild animals, etc. Build a farm theme with barns, farm animals, grass and fields. As your baby begins to walk and talk, he'll feel like an explorer in his own room!

Fruits, Flowers and Gardens

Other popular themes are created using floral patterns, colorful fruits and garden themes. Babies are amazed at the colors and textures of these items when their eyesight becomes focused. These are simple, but decorative themes that can be used for several years as your baby grows.

No matter what your baby nursery theme, you can use simple decor items to enhance the room and create a room of wonder for your baby!
Balloons Delivered
Convey your sentiments or add warmth to any occasion with a vibrant, eye-catching, festive balloon bouquet.



New Baby Gift Ideas


Beautiful newborn baby gift baskets to celebrate the birth of the new arrival and congratulate mom and dad. Adorable baby shower gifts and more.



Personalized Gifts
Personalized gifts stand out from the rest turning an ordinary gift into the extraordinary. Engraved gifts with true keepsake value.



New Mother Gift Ideas

New mom gift baskets and pampering gifts for a new mother, mothers to be, and pregnant women expecting a new baby.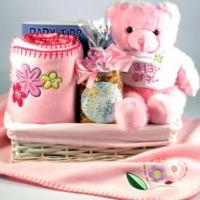 Welcome To The World
$69.00
Send this beautiful baby basket available in either light pink (shown) or baby blue. Includes plush bear, embroidered blanket, hardcover baby book and more.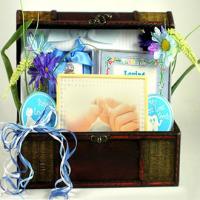 Tiny Treasures, New Baby Gift Trunk
$69.95
We have filled a very attractive, keepsake baby gift trunk with adorable new baby gifts; a wonderful way to welcome any new baby boy or girl into the world.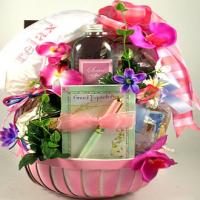 Great Expectations, Gift Basket For Mom-To-Be
$76.00
Pamper a new mom with kindness. Send this pretty expecting mother gift basket to a new mother, or mother to be, as she awaits the arrival of her new baby.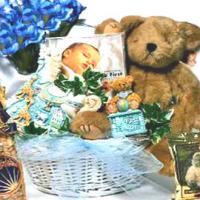 New Arrival, Baby Gift Basket
$79.00
This beautiful new baby gift basket, adorned with life like floral accents and bow, contains baby gifts, keepsakes plus special treats for Mom and Dad. (2 sizes - available in pink or blue)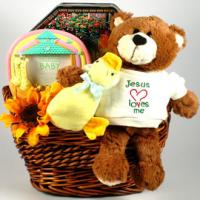 Jesus Loves Me Baby Gift Basket
$79.95
Christian gift basket for new parents are a great way to welcome a new baby into the world. Baby shower gift basket ideas for baby girl, baby boy and new baby gift baskets.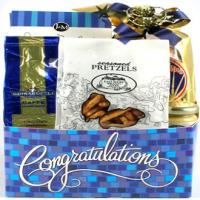 Congratulations Gift Box
$79.99
This bold and festive gift box says it all, tastefully. A vibrant gift to say Congratulations with both style and good taste for any occasion.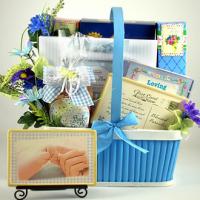 Heaven Sent, Baby Gift Basket
$82.00
Sending this adorable new baby gift basket is a great way to welcome a new baby boy or baby girl into the world. Available (in blue or pink) and filled with newborn baby gifts and treats for the parents.



A Special Gift For New Parents
$89.95
While everyone is fussing over the precious new baby, treat the proud new parents to a special new parents gift all their own. An elegant way to say congratulations.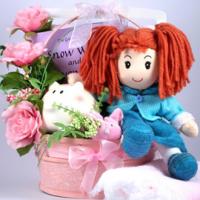 Sugar And Spice Little Girl Gift Basket
$89.95
What a sweet gift! This adorable gift is the perfect way to welcome a new baby girl, or to say happy birthday or feel better to any special little girl.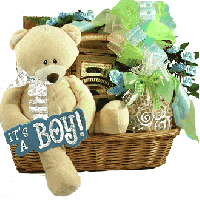 Precious Prince, Baby Boy Gift Basket
$89.95
Our adorable baby boy gift basket is a wonderful way to say Congratulations to the proud new parents on the birth of their new baby boy! Also available in pink for baby girl.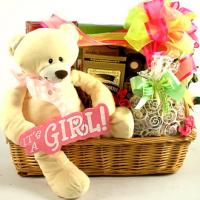 Precious Princess, Baby Gift Basket
$89.95
This super sweet baby gift basket is a wonderful way to say Congratulations to the proud new parents on the birth of their new baby girl! Also available in blue for baby boy.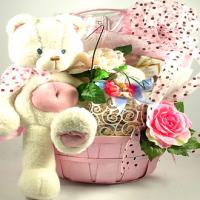 Sweet Celebration, New Baby Gift Basket
$98.00
Celebrate the precious new arrival with this incredibly sweet new baby gift basket trimmed with silk flowers, ribbon and filled with gifts for baby and parents. Available in pink or blue.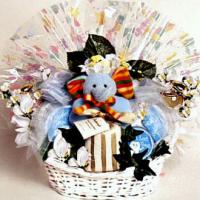 Mommy and Me, Baby Gift Basket
$90.00
A unique new mother and baby gift basket idea. Send the new mom a basket to show you share the excitement of her newborn! Available in pink or blue and two sizes.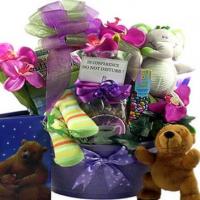 Mom, Dad and New Baby
$105.00
This baby basket is a great gift for mom, dad, and new baby. Includes gifts for baby plus delicious treats for mommy and daddy to enjoy.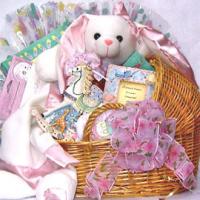 Special Delivery Baby Gift Basket
$105.00
An assortment of adorable baby gifts arrive in a bassinet shaped gift basket adorned with beautiful silk flowers and ribbon. Available in pink or blue. Two sizes.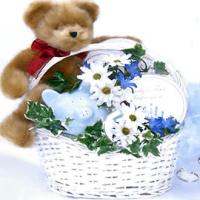 Bundle of Joy, Newborn Baby Gift Basket
$109.95
Send this adorable new baby gift basket, filled with wonderful baby gifts, to welcome the new arrival and congratulate the new parents. Available in pink or blue.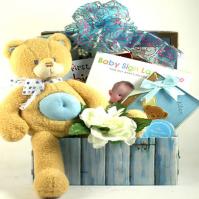 Bear Necessities, Baby Gift Basket
$117.00
A charming collection of new baby gifts including a unique Baby Sign Language kit, keepsakes and yummy treats for the proud parents. Available in blue or pink.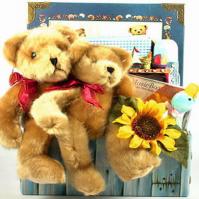 Classic Teddy Bear Baby Basket
$122.00
Congratulate the new parents with this adorable new baby gift box. Complete with two charming teddy bears, new baby gifts and keepsakes. Available for a boy baby or girl baby.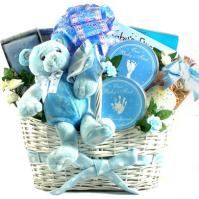 Baby's First, New Baby Gift Basket
$125.00
You won't find anything cuter than this new baby gift basket filled with keepsakes such as baby footprint and baby handprint kits. Available in blue or pink.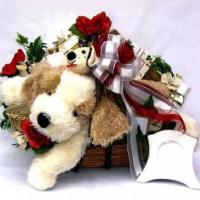 Fifth Avenue Baby Gift Basket
$143.75
Upscale, elegant baby gift basket for expecting parents, new mom, baby shower gift or to show that you share the excitement of their new baby!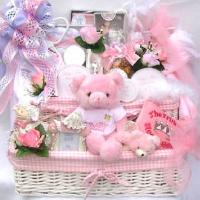 Pampered Baby, Luxury Gift Basket For New Baby
$285.00
A luxury baby gift basket featuring a huge selection of adorable baby gifts for to pamper the new arrival. Includes gifts for new mom and dad. Available in pink or blue.