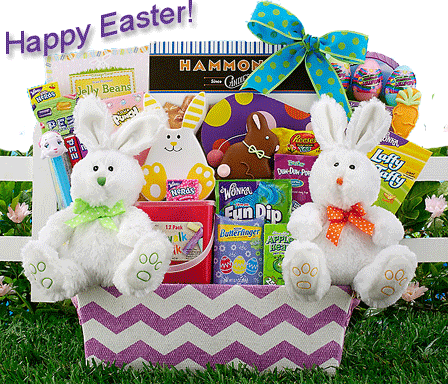 Easter Gift Baskets, Easter Bunny Baskets
Send Easter Baskets by Mail to children, adults, friends and family. Buy Easter gift baskets online for kids of all ages filled with Easter candy, chocolate Easter bunnies, toys and Easter treats.

At Adorable Gift Baskets you're sure to find fun Easter gift basket ideas to delight any child, grandchildren, family member or friend.

Whether sending a family Easter gift basket, a chocolate bunny basket or an Easter celebration basket for a party of one you are sure to find great gift baskets to fit your budget and every gift-giving need at Adorable Gift Baskets.



Easter Activity Gift Basket
$162.00

This deluxe Easter basket is loaded with enough activities and Easter candy to keep any child or grandchild quite content. Makes the perfect Easter gift basket for any child on your list. It has it all.. games, stickers, books, candy, gifts, treats, toys, and a whole lot of style! This is a gift the whole family will enjoy! It is sure to be a big hit this Easter!


Family Fun Easter Basket
$89.95

This cheerful and colorful gift basket makes the perfect Easter gift for the whole family. With lots of goodies and gifts, including festive music and/or movies, they will have a fun Easter indeed! Includes Bunny Snack Mix, Chocolate Bunny, Chocolate Chip Cookies, Chocolate covered Pretzels, Pecan Log, choice between the DVD: Mother Goose Treasury or a CD: Easter Favorites and more.


Sunny Bunny Easter Basket
$80.50

"Sunny Bunny" awaits a special child this hippity hoppity Easter. Basket includes an array of Easter candy, yummy chocolate bars and fudge, an Easter holiday book, cookies, tasty snacks, fun games, stickers and tons of Springtime fun.


Deluxe Cottontail Easter Basket
$130.00

"Wow!" is the word that comes to mind when you first see this over sized, absolutely adorable, Easter basket close up. It is just gorgeous! Available in pink or blue and in 3 sizes to fit every budget. All are stunning and filled with a wonderful mix of Easter treats and gifts for them to enjoy.


Little Princess Easter Gift Basket
$97.00 $88.00 Sale

A huge hit this Easter! This deluxe Princess gift basket for little girls is just what you were looking for to make sure she is treated like royalty this Easter. She will have a royal good time when this enchanted Easter gift basket arrives filled with a bountiful array of treasures, goodies, gifts and delicious sweet treats.


Deluxe Easter Cheer Basket
$158.00

A cheerful, over sized Easter basket just blooming with a delectable variety of gourmet Easter snacks, savory sweets plus fun and festive Easter gifts. This surefire way to grow smiles on the faces of your loved ones includes "Easter Fun" puzzles, games, stickers and crafts. Plus Chocolate Easter Bunnies, "Peeps", Easter Candy, Cookies, Chocolate Pretzels, Chocolate covered Potato Chips, Caramel Candy and more.


Deluxe Christian Easter Basket
$226.00

A gorgeous one-of-a-kind Christian Easter basket features a high-end gift trunk filled with an inspirational Easter candle-holder and a treasure trove of delicious goodies for them to enjoy! This stunning basket arrives trimmed with designer ribbon and beautiful flowers making a lovely Easter gift for grandparents, parents, friends and family on your gift list.


Easter Deluxe Breakfast Basket
$134.00

Easter morning holds a truly special place the hearts of most of us. We love the memories of Easter, the meaning of Easter and the moments together! This Easter, you can help them celebrate that very special morning by sending this gourmet breakfast basket right to their doorstep! Our special Easter breakfast includes pancake mix, syrup, Cappuccino, European Cocoa and more!


Little Girls Fun Easter Hat Basket
$66.95

Little girls just wanna have fun and fun she shall have, when she receives this adorable gift basket made just for her! This darling little girl Easter basket is perfect for daughters, granddaughters, nieces and little girl friends. She will love this pretty spring hat filled with fun gifts, delicious goodies and Easter treats tucked inside!


Bunny Patch Easter Basket
$179.00

These Bearington Bear Bunnies are the most adorable bunnies available anywhere. This Easter basket is going to be appreciated by anyone fortunate enough to receive it. This one-of-a-kind Easter gift arrangement offers two large and incredibly sweet, plush bunny rabbits from the world famous Bearington Collection plus an assortment of fine gourmet gifts and sweet treats! A wonderful Easter gift for anyone.


Butterfly Ballerina Basket
$75.00

This charming little girl gift basket is just as sweet as can be! She will be dancing for joy when she receives this very special gift basket that includes a set of treasure boxes filled with a precious ballerina bunny, a very special story book, ballerina jewelry and a selection of special Easter treats for her to enjoy! It is absolutely adorable!


Kids Easter Garden Basket
$79.00

This Easter basket, for the budding botanist in your life, is just blooming with delicious sweets and sweet gifts! She will be thrilled to receive her very own garden tote filled with her own garden tools! It is just so sweet! Sweeter still because we have planted a whole bunch of delicious goodies and gifts for her inside!


Easter Baskets Delivered
Send chocolate Easter gift baskets and Easter gifts to children by mail with free shipping. Buy Easter gift baskets for kids including Easter candy baskets, Easter bunnies and toys. Find Easter gift ideas to delight any child, grandchildren, family member or friend.

The Origins of Easter
Easter is the most significant day in the Christian calendar, and is celebrated in many different ways with a variety of customs and traditions. People may be surprised to discover that some of these observances actually predate Christianity, and were originally intended to celebrate the arrival of spring.
The History of Easter
Historians tell us that the holiday was named for Eostre, the ancient Anglo-Saxon goddess of spring. The month we now call April was named after her, and the Christian holiday that was observed around that time became known as ìEasterî in English-speaking countries. During the second century A.D., missionaries who sought to convert the tribes living in northern Europe discovered that the holiday commemorating Jesusí resurrection seemed to dovetail with the yearly Teutonic celebrations, which also stressed the renewal of life.
Easter Eggs
The egg has symbolized fertility and new life since the dawn of history. The Romans, Egyptians, and Persiansóalong with other ancient societiesóused eggs in the celebration of their spring festivals. In the Middle Ages, Christians were not allowed to eat eggs during the penitential season of Lent, and the eggs that were preserved during those 40 days became an essential part of the Easter meal. They also became a gift that was prized by both servants and children.

Greek Orthodox Christians painted their eggs a bright red, symbolizing the blood Christ shed on Good Friday. In Armenia, eggs were drained of their contents and decorated with various religious figures, while Germans hung them on trees and gave green eggs as gifts on Holy Thursday. Austrians covered them with tiny plants before boiling them, which created a white pattern when they were removed. In Ukraine and Poland, the traditions were particularly elaborate, and people often painted their eggs gold and silver. A ìpysankyî egg involved the careful application of wax patterns on an egg. After the egg was dyed, wax was reapplied to preserve the original color, and the process was repeatedóresulting in a multi-color patterned or striped egg.

Today, coloring Easter eggs is a longstanding tradition, and they are usually painted, dyed, or decorated, in any number of ways. Over the years, they became part of various holiday games, and parents hid eggs for the childrenís Easter egg hunt. Egg-rolling contests were also held, including the one on the White House lawn that is featured in the news each year.
Easter Bunnies
The rabbit has also long been regarded as a symbol of fertility. In Germany, children were told stories about an ìEaster hareî that would lay eggs for them to find. When Germans immigrated to the United States, they continued the tradition, began baking Easter cakes in the shape of rabbits, and may have originated the idea of making chocolate Easter eggs and bunnies.
Easter Outfits and Parades
When they were baptized, the early Christians wore white robes throughout Easter week as a sign of the new life they had begun. Those who were already baptized did the same as a symbol of the life they shared with their Savior. Robed in white, Christians would take a stroll after participating in the Easter Mass. Someone carrying either the Easter candle or a crucifix led the procession. This has evolved into our modern Easter parade, where people wear their Easter finery and the Easter bonnet is celebrated in song.



Fun Facts About Easter - Easter holds a special meaning for people from all walks of life, rich and poor, young and old, male and female. For many people, Easter means fond memories of waking up to an overflowing Easter basket. To others it means special times with family and friends and to others Easter means building on past family traditions to create a special celebration for your own family. Click here to read more...



Why Does The Easter Bunny Bring Us Candy? - What are you teaching your children and why? As a parent of young children I have had to recently address this very topic. Daddy, why does the Easter Bunny bring us candy? Hmmm... my initial answer, "I'm going to have to get back to you on this one." So let's take a look at that question. Yep, kids do keep you on your toes. Click here to read more...



Easter Decorating Tips and Ideas - Sure you decorate your fireplace and mantel for the winter holidays, but donít forget this important focal point in your room as Spring approaches. Click here for some nearly-instant decorating ideas for springtime and Easter fireplace.


Adorable Gift Baskets, LLC - Registered Trademark - 2000-2015 All Rights Reserved